Our Team
Carter Smile is one big team creating beautiful healthy smiles.
Our practice is dedicated to helping children have bright healthy smiles for a beautiful future. We stress integrative pediatric dentistry to prevent developing problems. We believe in starting patients young (1 year old) to establish healthy habits from the start. Preventing problems is better than fixing problems! Not only are we watching for cavities, but we also look for developing issues with spacing, crowding and bites. Comprehensive integrative dental care from diapers to college degrees!
We have individualized care for each patient to make every visit easy and fun. We take special care to address your child's need. We explain everything to each child so they know what things look like, sound like and feel like before we start. We do everything to make your child's experience positive.
We think of our patients as our family and we do everything to create one big happy family. We even have a therapy dog, Callie!
---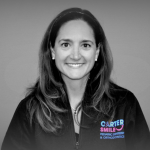 Dr. Carter, Pediatric Dentist and Orthodontist
Dr. Carter has been making the world a better place one smile at a time for over a decade. She started working in her father's office as a little girl and decided she wanted to grow up and be like him. She is one of the handful of dentists in the country who is both a Pediatric Dentist and Orthodontist. She was in school for 11 years after college! She loves having fun in the office while providing the best and individualized care for each patient. She is most proud of her Therapy Dog, Callie. When not in the office, Dr. Carter is playing golf and trying to break 80!
---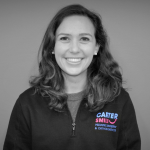 Daniela, Clinical and Administrative Assistant
Daniela is a lifelong patient of the office. She recently graduated as a Chemistry major and with a Spanish and Business Management minor at The College Of New Jersey. She is currently applying to dental school so we look forward to having her as a colleague in the near future. When not in the office, she is hiking with her friends, guiding her 2 younger sisters, and reminding everyone to wear their retainers and floss!
---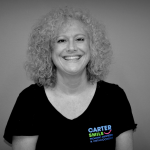 Ginny, Clinical Assistant
Ginny has been with the office for over 4 years and she greets every patient with her beaming smile. She has a background in dance and teacher certification in elementary education. She also sings with her husband's band on the weekends. Watch out, she might give you a song and a dance for the flavor choices! We must admit she has a favorite
Carter Smile patient, her daughter Ally, so she knows all the ways patients break their braces like only a mother can know!
---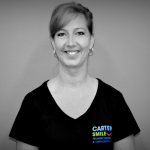 Lori, Hygienist
Lori is our "blast" from the past, as she has been with the office for over 16 years. She is an expert in teaching your child excellent oral health skills and comforting with her silly sense of humor, warmth and compassion. She is also very skilled at orthodontics so don't be surprised if she is giving your child a beautiful healthy smile. She likes to toot her own horn about her many skills. When not in the office she enjoys skiing, kayaking and fishing with her husband Ken and her sons Dan and Brian. Her favorite child is her Boxer, Tonka.
---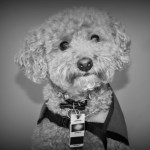 Callie, Certified Therapy Dog
Callie loves being in the office and making everyone smile. She alerts all of us when the front door opens and greets every patient. She enjoys playing with and kissing patients. When not in the office, Callie is playing with her pack (85lb LeRoy and 115lb Mickey) or napping. She loves chasing chipmunks, squirrels and running cartoon dog fast. Her favorite snacks are steak, chicken, meatballs and whatever Dr. Carter is having.